OUR MISSION
Legacy School's mission is to saturate the heart of every student with revelatory teaching that awakens them into the original intentions of God to produce manifest sons and daughters.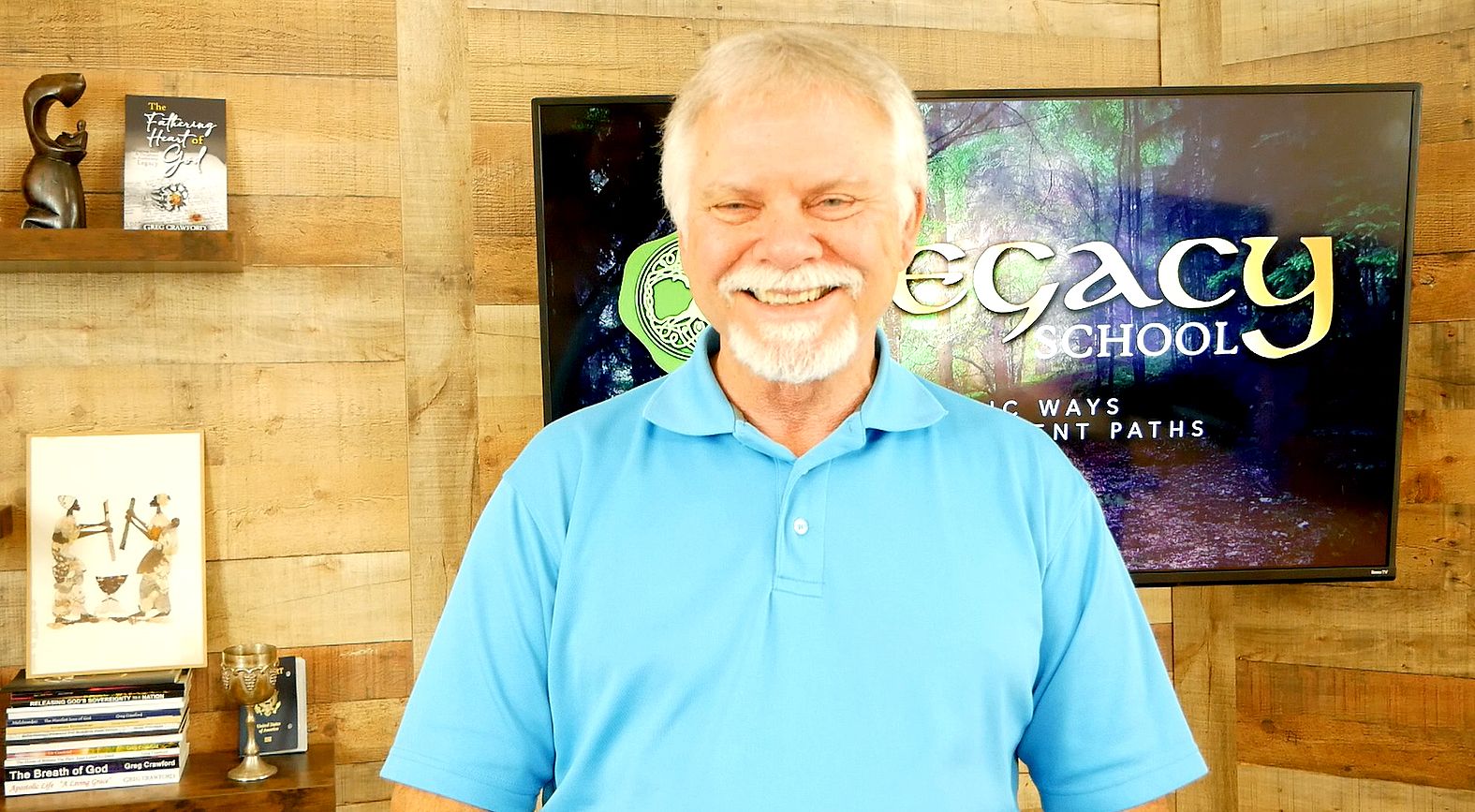 "My desire is that this school will bring a more authentic expression of Christianity to the earth"
- Dr. Greg Crawford
What's it like?
Legacy school is designed to bring authentic Christianity back to the body of Christ by instructing leaders. You will receive in depth teaching by revelation and historical study about the original intentions of God on many subjects.
Leadership Training and Equipping

Mentoring and Fathering

Revelatory Teaching

Forming Alliances

Awakening Destiny
Practical Leadership
The school looks at familiar topics in a practical approach because of the 30+ years of experience and wisdom of Dr. Crawford in Apostolic, Prophetic, and world-wide mission work.
Mentorship through a Father's Perspective
A student does not just listen to lectures on topics, but will have a mentoring relationship with Dr. Crawford through weekly zoom calls for Q&A sessions. Classes are recorded videos organized in a course archive. So class can be taken at the student's convenience.
Tools and Resources
In the Master Level, leaders receive tools they can use in their ministry and studies. The Master Level will have notes they can use to teach from, hard to find books, ancient documents, many more recommended resources.
Community with other Students
Students will have community through a private facebook group where students will discuss teachings, revelations, and testimonies of God moving in their life through the teachings. Students can react and comment on classes as they watch in order to share experiences with each other in what they receive from God in class.
Revelatory Teaching
Deep full revelatory teaching style Apostle Greg carries. Seeing hidden truths and origins of God enables others to have a more complete view. The revelatory style will be seen through the classes.
Spiritual Father's Heart
The fathering heart Apostle Greg carries will be seen in the weekly mentoring Q&A sessions. The fatherhood of God and His sovereignty are within the teaching sessions. The vision for who the students are to God and what they can become will be the unseen force behind discussions, mentoring and even relationship building. This gives the student an advantage by gaining priceless wisdom as it is passed down generationally.
What is School Like?

Every Sunday morning a new full length class is added to the course.

Every Thursday a new 15-20 minute leadership principal teaching is released to the course.

Every Wednesday night is mentoring night! You will get an invitation for a LIVE Q&A session on a zoom call with Dr. Crawford and other students in the school to answer all of your questions from the class released that week, as well as any questions you have about Christian life, relationship with God, or in ministry.

Students discuss the class together with revelations and comments how God spoke to them through the teaching in the student community facebook group every week. Only paying students are permitted into the community group.
Greg Crawford
(Spiritual Father, Revelatory Teacher, Apostle, Author)

Dr. Greg Crawford holds a PHD of Ministry which he received Magna Suma Cum Laude. He is ordained with Jim Hodges' Federation of Ministries and Churches International and is in relationship with several well know national voice.
​
Greg Crawford has been active in ministry for over 30 years serving in almost every type of leadership role. He is the founder of Jubilee International Ministries, which has birthed Jubilee School of Ministry an online school, Jubilee International School of Ministry which now has 105+ schools in developing nations graduating roughly 5,000 students yearly. He has also planted Jubilee Kingdom Gathering an apostolic church an currently oversees "The BASE" an apostolic kingdom Center in the state capital.
Apostle Crawford or APG as he is know by, has traveled on numerous international trips, leading teams into nations conducting leadership conferences. He has worked in Cote D Vire, Nigeria, South Africa, Zambia, and Indonesia. He laid the ground work for the apostolic reformation in Nigeria and gives council to numerous ministries and leaders connected with Him.
Apostle Crawford has become a spiritual father to many and has a desire to see the generations running together as one voice. He has labored to see the Kingdom expression of reformation and awakening come by travels in Iowa and the United States to help bring this into existence. He is best known for his revelatory teaching style and has a unique and powerful ministry of laying on of hands for impartation. He carries a deep message that release the breath of God to confront the hearts of believers. This has opened the door for him to speak at many national conferences. The revelatory dynamic has enabled him to write many books, write close to 300 hours of ministry school classes, some taught by secular colleges. Currently he is overseeing The BASE, a ministry located in Des Moines to bring awakening and reformation to the church and culture. The forerunner ministry of the BASE has creative spontaneous worship created in the moment, gift and call devolvement, investment by spiritual fathering, and revelatory instruction with opportunity. The BASE holds state wide Awakening meetings every six weeks where people from across the state attend
Created with